Matobo National Park – Hwange National Park – Victoria Falls, Zimbabwe
Duration: 9 Days / 8 Nights
Zimbabwe
A nation of spectacular natural beauty, friendly people and rich culture, Zimbabwe's status as one of Africa's leading safari destinations was dampened for years by its political instability.
But now that the country is transcending its strife and returning to a state of equilibrium, it is once again emerging as a vacation highlight of the continent.
Victoria Falls – known to locals as 'The Smoke That Thunders' – is one of the seven natural wonders of the world and the sheer power of this massive body of water plunging into the Zambezi Gorge is awe-inspiring and unforgettable.
Lake Kariba, with its game-rich shores and islands, is an idyllic safari spot featuring mind-blowing sunsets;
Hwange National Park is known for its huge herds of elephants; and a kayak trip down the Zambezi through the Mana Pools National Park will appeal to the intrepid traveller, providing close encounters with crocodiles, hippos and a host of other wildlife.
Itinerary Options
Day 1 – 4: Matobo National Park, Camp Amalinda
Idyllically located in the spectacular Matobo Hills, the renowned Matobo National Park is known for its rich human history, its remarkably diverse flora and fauna and its magnificent rugged terrain.
This unspoiled natural wilderness features a range of massive red-tinged, granite boulders interspersed with gorgeous wooded valleys making it a dream destination for hikers, climbers and nature lovers alike. The reserve is compact, easily accessible and is home to an impressive range of African wildlife including the highly endangered black and white rhinoceros, zebra, wildebeest, giraffe, cheetah, hippo, warthog and crocodile as well as Africa's largest concentration of leopard and black eagles.
This unforgettable national park serves as an ideal stopover for travellers heading to the popular tourist sites of Hwange and the majestic Victoria Falls.
Overnight: Camp Amalinda
Camp Amalinda, an African inspired refuge, where world-class facilities combine with the spiritual energy, allure and unique beauty, for which the Matobo Hills is so celebrated.
The granite domes and castle kopjes of the Matobo Hills, Zimbabwe, are among the most majestic rock sceneries in the world.
Nestled in this unique range of hills is Camp Amalinda, situated only 45kms from Bulawayo.
Amalinda consists of nine individually thatched rooms including 3 honeymoon suites, 3 family rooms, 2 double rooms & 1 single room, which are all set into the huge boulders.
Each room is steeped in African historical artifacts of a bygone era and tucked away into an ancient bushman's shelter, Camp Amalinda's charm will leave an indelible impression on every visitor.
Activities:
Visit the world-famous tomb of Cecil John Rhodes
Rock paintings, caves & White Rhino – Matobo National park
Cultural & Village Tours
Walks/Hikes around Camp Amalinda
Khame Ruins, Bulawayo Historical tour & Makokoba Township visit
Visit the world-famous tomb of Cecil John Rhodes
Drive through the granite hills in the footsteps of Cecil John Rhodes. Visit his world-famous tomb known as "View of the World", it's a historical experience not to be forgotten.
Leander Starr Jameson is also buried here and together with the spirits of soldiers killed in battle by Matabele warriors, they gather around at sunset, there is a definite spiritual presence.
This "dwala" is known as "the dwelling place of spirits" or rather "Amalindidzimu", the view will leave you breathless…….
Cultural & Village Tours
Take a tour to an African homestead and get down to earth with the local Matabele people. Enjoy their gracious hospitality as they show you around their "pole and dagga" huts. Use this opportunity to get an insight into the way of life for the local people and to experience their culture. We offer a chance to visit a clinic, traditional healer, and local primary school where one begins to understand no matter what adversity children face, one of their basic wants is to learn. Many projects at the school, clinic, and orphanage have been completed, and some are ongoing, through our social responsibility program, The Mother Africa Trust.
Walks/Hikes around Camp Amalinda
Walking on our property is entirely safe – you could bump into warthog, zebra, klipspringer, kudu, impala, wildebeest, reedbuck, duiker, steenbok, hyrax, and a vast variety of birdlife.
Watch out for the elusive leopard, although he'll see you first….
Day 4-7: The Hide, Hwange National Park
Hwange National Park

Hwange National Park is Zimbabwe's biggest reserve, home to a profusion of wildlife, including giraffe, lion, zebra, and approximately 40 000 elephants. It provides sanctuary for all the country's endangered species, including a population of wild dogs thought to be among the most sizeable surviving groups on the continent.
Terrain ranges from desert dunes and savannah lands to rocky outcrops and sparse forests, and visitors have the choice of game drives, guided walks, or horseback safaris as a means of experiencing the park and its creatures.
Overnight: The Hide
Celebrating its 25th anniversary this year, The Hide Safari Camp is perfectly situated within Hwange National Park, Zimbabwe's largest game reserve.
Guests are accommodated in 10 beautifully furnished deluxe tents, all boasting en-suite bathrooms and private verandas overlooking the busy waterhole.
Keep your binoculars on hand, as elephant, lion,s and buffalo can often be seen satisfying their thirst. Adventures include day and night game drives, guided bush walks, and exceptional game viewing in the seclusion of the camp's unique underground hides.
For those who are a little more adventurous, The Dove's Nest Treehouse is available at no extra charge. Located 10 minutes away from camp, this rustic gem sleep-out has the perfect vantage point from which to view wildlife safely, quietly.
After an exhilarating day of game viewing, guests can retreat to the cool refuge of the camp's swimming pool and can enjoy delectable meals savoured al fresco or in the elegant dining room.
You may want to consider embroidering your name on your sleeve before you leave because your heart is bound to remain at the Hide.
Day 7-9: Ilala Lodge, Victoria Falls, Zimbabwe

Resting on the southern banks of the Zambezi River at the western end of the eponymous falls, this popular tourist town is compact enough to walk around and makes an ideal base for travellers exploring the seventh wonder of the world, the unfathomably vast Victoria Falls.
About two-thirds of the falls can be viewed from the Zimbabwean side and, while the falls are undoubtedly the star attraction, the area provides both adventure seekers and sightseers with plenty of opportunities to warrant a longer stay.
Popular activities include scenic flights over the falls in helicopters or microlights, bungee jumping off the Victoria Falls Bridge, white-water rafting (seasonal), and day trips to Chobe National Park.
The town itself offers some excellent accommodation and restaurant options as well as an eclectic variety of African curios and authentic art sold by friendly Zimbabwean locals who are wonderfully welcoming and eager to help you enjoy your stay.
Overnight: Ilala Lodge
The warmest of welcomes awaits you at Ilala Lodge Hotel. A gracefully distinguished ambiance. Attentive yet discrete service that always comes with a smile. The sublime surroundings of our boutique hotel will reawaken your senses while the power of the majestic Victoria Falls renews your spirit. Relax in luxurious style. Listen to the meditative rhythm of the great Zambezi as you drift off to sleep.
As the morning comes, gently awake and lift your head to see the spray of the majestic Victoria Falls across the unspoiled horizon – and let your soul sigh. Feel at ease in our elegant and spacious rooms with African Teak furniture, soft, crisp linen – all en-suite facilities, bathroom with separate shower, air conditioning, overhead fan, satellite TV, hairdryer, tea & coffee making facilities, free Wi-Fi, and a safe. 56 rooms in total including 2 Executive Suites, 2 Standard Suites, 20 deluxe rooms, and 32 Standard rooms.
The view from your room looks across the lawns to the National Parks where elephant, warthog, impala, or the occasional buffalo might be passing by or simply grazing on the lawn or in the tree line. Experience new tastes, indulge in unusual flavours, and enjoy delectable dishes at our award-winning restaurant "The Palm"; dine in view of the spray of the majestic Victoria Falls!
We have a tours desk in the hotel where you can book all you're activities. Ilala Lodge also has a spa, where you can spoil yourself after that long safari!
Cruise down the river of time and follow the route that ancient explorers took, on the luxurious Ra-Ikane. She is the only one of her kind in Victoria Falls; The Ra-Ikane is a small luxury cruise boat that is out-fitted to suggest, in exquisite detail, an ambiance of a bygone era. Sip chilled white wine, or Gin & Tonics whilst nibbling on canapés, as well as the sumptuous high tea, whilst you glide up to Elephants feeding on the shoreline.
Activities Included:
Victoria Falls Guided Tour
A view of Victoria Falls is something you will never forget and the best way to see them is on a guided tour. Discover how the Falls were formed and what local customs and traditions surround them. These tours are extremely informative and end with a visit to the local art and crafts centre.
The Boma
The BomaDinner & Drum Show is a "must-do" Victoria Falls dining and entertainment experience, specializing in traditional African food, drumming, and dancing. The food is cooked and served in the style and quantity of a lavish feast, including irresistible desserts.
On arrival, you are dressed in a chitenge (traditional sarong) and welcomed into a vibrant atmosphere in which the tantalizing aromas of local dishes and game meat on the braai (barbecue) fill the restaurant, which is partially open to the star-filled African sky.
Your meal begins with a mouth-watering platter of starters whilst the buffet includes soup from the campfire, a range of salads, game meat cooked on a braai (barbecue), followed by desserts. Vegetarian options are also available, as well as local dishes such as peanut butter spinach.
You can also look forward to outstanding performances by traditional singers and dancers, and enjoy an energizing interactive drumming show. A face painter, storyteller, hair braider, and fortune-teller also form part of this festive evening.
Chinotimba Township Tour
The word Chinotimba describes the roar of the water from the mighty Victoria Falls in the local Nambya language. The Nambya and the Tonga people are the original people of the Victoria Falls area.
The majority of people in Victoria Falls live in the Chinotimba township, which has a population of approximately 60 000 people. During this tour, you will have an opportunity to observe township-life – from the oldest houses to the taverns, the local market, and churches.
During a visit to the Chinotimba Primary School, you are introduced to the school headmaster – he or someone assigned will take the guests on a tour of the school after which the children may sing a song (Please note that school visits are subject to the schools being open).
Ra-Ikane
The Ra-Ikane, the only one of its kind in Victoria Falls, is a small luxury cruise boat that is out-fitted to suggest, in exquisite detail, an ambiance of a bygone era. The vessel was built to replicate the "Ma-Robert" – Dr David Livingstone's boat.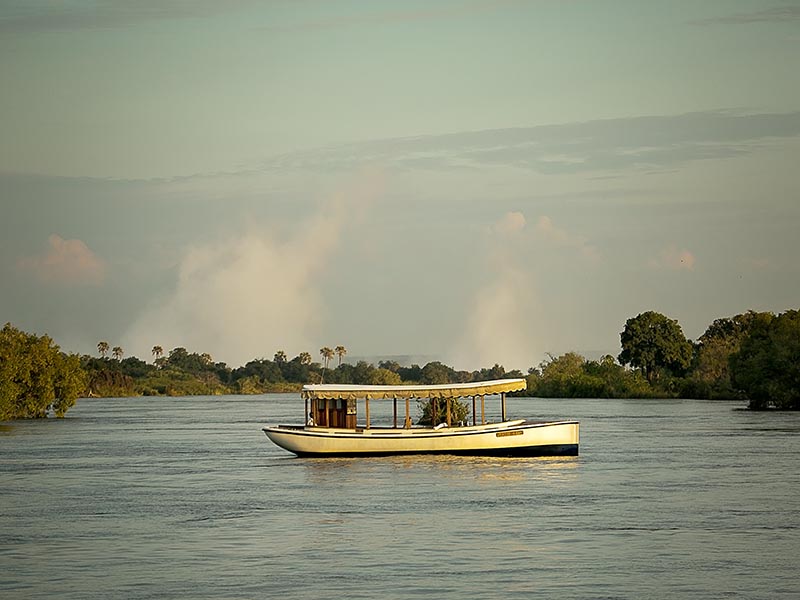 This cruise boat is exclusive and personalised and designed to complement your stay with us. Period decor, historic memorabilia, fine cuisine, and refreshments characterise a level of comfort and grace unsurpassed on the Zambezi.
Day 9: Departure
After breakfast, you will be collected and transferred to Victoria Falls International airport for your onward flight.
Overview
| Accommodation | Accommodation | Nights | Basis |
| --- | --- | --- | --- |
| Camp Amalinda | Matobo National Park | 3 | AI |
| The Hide | Hwange National Park | 3 | AI |
| Ilala Lodge | Victoria Falls, Zimbabwe | 2 | D. B&B |
Rates are per/person sharing – Min 2 pax – Rates can change depending on seasons of the year and number of persons travelling.
Please enquire.
Included:
3 Nights Camp Amalinda – all-inclusive basis
3 Nights The Hide Safari Lodge – all-inclusive basis
2 Nights Ilala Lodge – B&B basis
All activities at Camp Amalinda – including Khame ruins & Bulawayo Historical tour
All activities at The Hide Safari Lodge
Ilala Lodge – Breakfast & 1×3 course dinner
1 x Boma dinner
1 x Lunch Ilala Lodge
1 x Lunch Vic Falls Safari Lodge
1 x Sunset cruise on the Luxury Ra-Ikane , premium brand drinks, executive snacks, transfers
Guided Tour of the Victoria Falls
Guided Tour Chinotimba township & meet the people
All Road transfers
Laundry at Camp Amalinda & The Hide
Excluded:
National Parks fees Camp Amalinda
Monument Fees Matopos & Khame ruins
Donations to the drumming team in Makokoba Township
Drinks on Prospectors tour
Parks entrance to Victoria Falls
Drinks at Ilala Lodge, Boma restaurant & Vic Falls safari lodge
Laundry at Ilala Lodge
Visa's
Gratuities
Activities not mentioned above
Items of a personal nature
Terms and Conditions
All Safari Lodges, Safari Camps, Hotels, B&B's & Service providers' cancellation policies will be implemented.
25% Non-refundable deposit to confirm the booking. 100% Pre-payment is required 60 days prior to date of travel.
Travel insurance is required in order to travel.
Lucky Bean Travel reserves the right to amend rates without prior notice.