Listed below are some interesting fun facts about Zimbabwe for travelers and tourists.
If you require more information about Zimbabwe, please contact Lucky Bean Travel.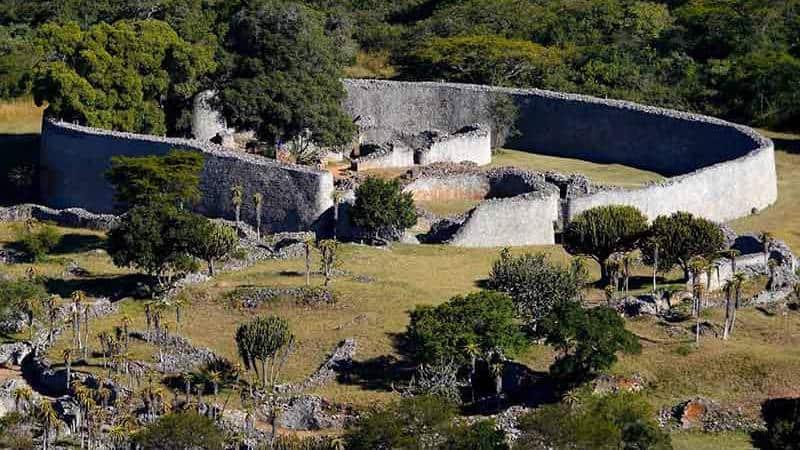 Interesting Fun Facts About Zimbabwe
Official Name: Republic of Zimbabwe
Zimbabwe Population: 12,462,879
Capital Of Zimbabwe : Harare (pop. 1,600,000)
Zimbabwe Currency: US$ Dollar (USD)
Visa cards are accepted within Victoria Falls hotels and establishments, at various shops BUT not out in remote areas like Hwange, Mana Pools, Matopos, etc due to no online facilities
We suggest you bring some US$ cash in small denominations with you for parks fees into the Falls, lunches, drinks, and gratuities.
Zimbabwean Languages: English (official), Shona, Sindebele, & numerous tribal dialects
Independence Day: April 18
Religions: Syncretic (50%), Christian (25%), others (25%)
Country Dialing Code: 263
Electricity: Zimbabwe uses 220 volts AC (50 Hz)
Land Area: 390,624 sq km (150,820 sq miles). The United Kingdom covers about 243,610 square km. Therefore, Zimbabwe is approximately 1.6 times larger in size than the UK
Coastline: 0 (landlocked)
Highest Point: Inyangani – 8,503 ft. (2,592 m)
Lowest Point: Intersection of the Runde and Save River – 531 ft. (162m)
Land Divisions: 8 provinces and 2 cities with provincial status, provinces include: Manicaland, Mashonaland Central, Mashonaland East, Mashonaland West, Masvingo, Matabeleland North, Matabeleland South, and Midlands. Provincial cites include: Bulawayo and Harare
Official Languages: Zimbabwe has 16 official languages, the most in the world according to the Guinness Book of Records
National Flower: The beautiful Flame Lily is the national flower of Zimbabwe
National Animal: The national animal of Zimbabwe is the Sable
More General Fun Facts About Zimbabwe
Elephants: Zimbabwe has the second highest population of elephants within its borders. Botswana has the lead in elephant populations with over 130,000 elephants, with Zimbabwe home to around 85,000 elephants.
Heritage Sites: Zimbabwe contains 5 UNESCO World Heritage Sites
Great Zimbabwe Ruins: Founded during the late iron age in the 9th century AD, the ruins are the largest in size in Africa. Great Zimbabwe was the capital of the region at its zenith and are well preserved.
The Nyami Nyami: The Nyami Nyami is a river god that lives in Lake Kariba. He is a serpent-like creature of local Tonga tribe mythology.
Attractions: Zimbabwe boasts the longest waterfall in the world
Achievements: Zimbabwe built the largest man-made lake in the world
Mining: Zimbabwe is estimated to have some of the highest reserves of diamonds and platinum in the world
Food: Sadza is the national dish and the best loved staple food in Zimbabwe
Sport: Football is the sport of choice in Zimbabwe
The Big 5: The Big 5 refers to the most popular and majestic animals in Zimbabwe. These are the Lion, Buffalo, Rhinoceros, Leopard and the Elephant.
Zimbabwe Big 5: This name has been coined in the hunting community as the Rhino is a protected species and cannot be hunted. Therefore the Rhino has been replaced by the Hippopotamus.
Farming: Tobacco, cotton and maize are the staples of agricultural farming in Zimbabwe. Beef is also a major farming concern


Facts On Zimbabwe – Seasons and Weather
One of the primary facts about Zimbabwe that a traveler should bear in mind, is the seasons! If you are visiting mainly for viewing game, winter is the best season as there is less foliage to obstruct sightings.
Summer: September to May (starts cooling down Feb – May) hottest period October/November & December
Winter: June – August being peak game-viewing season, as well as September, October, and November
Rainy season: Mid Nov – Feb/March
Latitude/Longitude: 17º 50′ S, 31º 03′ E
We hope you have learned some interesting fun facts about Zimbabwe.
Here are a couple of tips that you should read up on before you book your trip to this wonderful country.
For more information or fun facts about Zimbabwe, please do not hesitate to contact us.