Lucky Bean Travel was founded by myself, Caroline Perkins. Having been in the travel industry for 24 years, traveling is one of my major passions, however, my home "Zimbabwe" is my greatest love.
My enthusiasm to introduce you to my "world" is both an honor and a pleasure for me.
I will tailor-make your holiday or safari to your specifications. By visiting Zimbabwe you will be surrounded by a happy, smiling nation, who want to show you their beautiful and special country called Zimbabwe.
If you are needing an experienced Zimbabwe safari tour operator to book your custom itinerary to the exciting tourism destinations in Zimbabwe, look no further than Lucky Bean Travel.

"The world is a book and those who do not travel only read one page"
What is a Lucky Bean Tree?
The Latin name is Erythrina lysistemon and it is a species of a deciduous tree in the pea family, Fabaceae, that is native to Southern Africa.
The Lucky Bean Tree is a very decorative tree but it is also an important component of the ecosystem, providing food and shelter for a variety of birds, animals, and insects.
They have been regarded as royal trees in local culture and were planted on the graves of Zulu Chiefs.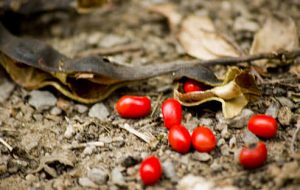 The flowering of the trees has been and still is, a good signal to the people that it is time to plant their crops.
The seeds are also used as lucky charms and for making jewelry.
The seeds contain toxic alkaloids as well as anti-blood-clotting substances that may be of value in the treatment of thrombosis.
They are very tempting for children, but should not be eaten.
Reasons To Choose Lucky Bean Travel?
With 24 years of experience in organizing customized travel arrangements into Zimbabwe, South Africa, Namibia, Botswana, Mozambique, Zambia, Tanzania, and Kenya, Caroline Perkins-Uys will share her traveling passion and firsthand knowledge and experience of the region with you and provide an experience with memories to be cherished forever.
Lucky Bean Travel is a small, exclusive, personalized travel company, based on the ground in Zimbabwe – ensuring multi-country and personal function requirements that will be melded into a seamless itinerary at the best monetary value, providing those leisure moments to enjoy the wonders of Southern Africa.
For the adventure seeker, visiting Victoria Falls in Zimbabwe will spoil you with choices. Walk with lions, ride an elephant, fly over the magnificent 1.7km long falls, bunji jump, and white water raft the mighty Zambezi River.
Unwind and enjoy the Big 5 game experience in:
Historical sites at Great Zimbabwe ruins and Matopos give insight into early Zimbabwe.
Visiting Zimbabwe is also about the people, who are very friendly, welcoming & proud of their heritage.
South Africa is world-renowned for its Big 5 in Kruger National Park, Umfolozi, and Madikwi National Parks. The wine regions of Franschoek and Stellenbosch, around Cape Town, are a must for wine lovers.
See the Kirstenbosch Botanical Gardens and Namaqualand which showcases the unique 'fynbos' fauna and flora and top it off with a ride to the top of Table Mountain, with Robben Island just around the corner.
Explore Namibia with its endless multi-colored sand dunes and skeleton coast, a must for those who love vistas on a grand scale. Etosha National Park, Fish River Canyon, and Twyfelfontein Rock Paintings display the extraordinary diversity of wildlife, fauna, and flora of Namibia.
Botswana offers an unforgettable getaway for the wildlife enthusiast with its diverse natural settings of the desert, river, floodplain, salt pans, and river delta. It is aptly named the 'Jewel of Southern Africa' and the Okavango River Delta experience will demand a repeat visit.
Explore Mozambique's beguiling coastline and experience the sand dunes, endless beaches, scuba diving, game fishing, and beautiful lodges to suit your budget.
Warm African welcomes are available in Zambia, Kenya, and Tanzania which are rich with wildlife and culture.
Contact Lucky Bean Travel for an infinite variety of mix and match options to suit your special interests now – and have a holiday of a lifetime.