Accommodation in Hwange National Park is plentiful within the park – the largest in Zimbabwe, that occupies roughly 14,650 hectares.
It is located in the northwest corner of the country about 2 hours south of the mighty Victoria Falls and 275km northwest of the city of Bulawayo. The park is close to the edge of the Kalahari desert and extends to the Botswana border, a region with little water and very sparse vegetation.
Hwange National Park (formerly Wankie) is named after a local Nhanzwa chief. It was the royal hunting grounds of the Ndebele warrior-king Mzilikazi in the early 19th century. The was founded around 1928 by Ted Davidson, a 22-year-old game ranger.
The Park hosts 105 mammal species, including 19 large herbivores and eight large carnivores, as well as over 400 bird species. All of the country's specially protected animals are found in Hwange and it is the only protected area where gemsbok and brown hyena occur in fairly large numbers.
The population of African Painted Dogs to be found in Hwange National Park is thought to be one of the largest surviving groups in Africa today. Elephants have been enormously successful in Hwange and the population has increased beyond the carrying capacity of the land.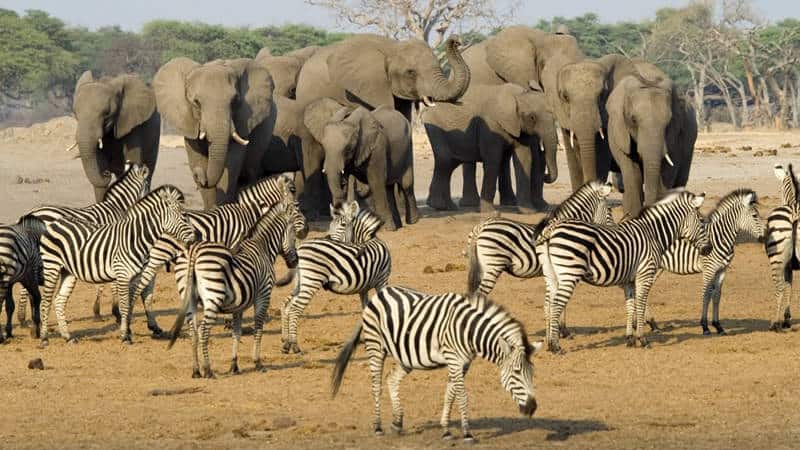 Hwange Accommodation
There is a multitude of Hwange accommodation, most privately owned safari lodges, and camps within the park and surrounding areas such as:
Camp Hwange, Davidson's, Forever Safaris, Ganda Lodge, Ivory Lodge, Little Makololo, Nehimba, Somalisa Acacia, Somalisa camp, The Hide.
Birding safaris are available from a number of lodges.
There are 3 national parks camps. These all offer camping and self-catering lodges, with Main Camp boasting a restaurant and a small shop for provisions.
Hwange Main Camp is at the main entrance to the Park, 23kms off the Victoria Falls/ Bulawayo road. There are many watering pans and pumped waterholes around Main Camp and there is plenty of wildlife to be found in the area.
Sinamatella Camp is located near the northern boundary of the Park on a plateau 55 metres high, overlooking a distant riverbed and grassy plain. The name Sinamatella is a distortion of the name of a local shrub called "chinamatira" which characteristically will stick to clothing when brushed against.
The Camp is approximately 120 kilometres from Main Camp. Please be aware that after 1400hrs vehicles are not permitted to travel between the two camps. Sinamatella is an Intensive Protection Zone (IPZ) for Black Rhino.
Robins Camp is close to the western boundary of Hwange approximately 60 kilometres from Sinamatella and 140 from the Main Camp. Passing traffic from Main Camp is required to leave by 1200 hours, but access is possible from the main Hwange-Victoria Falls road via a subsidiary road.
This camp is seasonal and closed during the rainy season.
Recommended Accommodation In Hwange National Park